When a natural disaster strikes and authorities declare an emergency, usually some of the first men and women to brave the environment are commercial freight haulers driving trucks. But faced with occupational hazards in an already demanding job, do carriers sometimes avoid the worst of it?
A new survey conducted by Convoy's Freight Market Outlook, which routinely surveys the supply and demand forces shaping trucking, asked approximately 160 owner-operators and small-to-midsized fleets from across the U.S. how they respond to different weather events. 
With an increasing tempo of droughts, fires and mudslides in the West, the wake of Hurricane Ida still causing damage across the South and East, and frequent winter storms across the North, these groups likely had no shortage of experience with extreme weather in recent years.
Do drivers try to avoid disaster areas?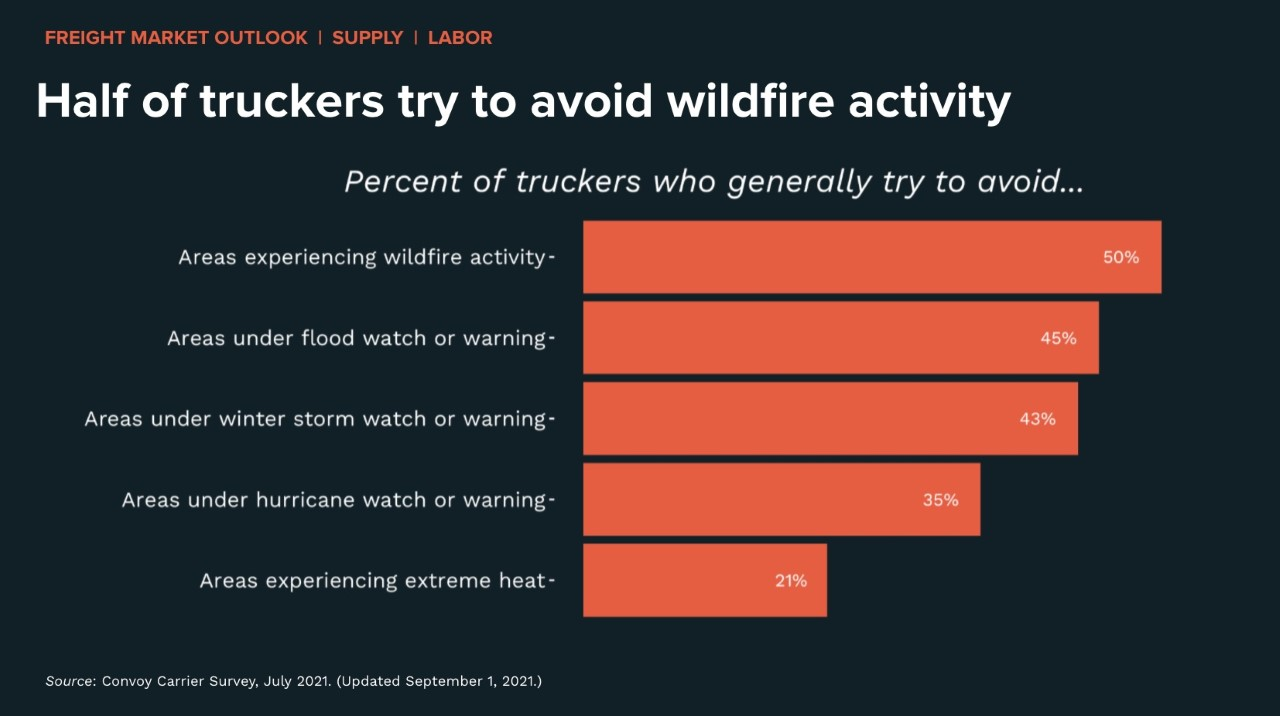 Overall, the survey revealed that no matter the circumstances, from fire to flooding, never did more than 50% of respondents say they'd try to avoid extreme situations, as illustrated in the graph above.
The survey result "obviously speaks to the sense of responsibility that a lot of carriers recognize the profession has," Aaron Terrazas, Convoy's director of economic research, told Overdrive. "Communities in need depend on the movement of goods. People are cognizant of that responsibility, particularly front-line responsibility, that the drivers bear. Over the past year, it's become very apparent the degree to which we depend on people putting their own lives at risk" within the trucking industry, he said.
Of course, even the respondents here who said they would "generally try to avoid" disaster areas do not, by any means, strictly or frequently refuse dangerous routes. The response only indicates that, given a choice, up to 50% of haulers would pick an alternate route.
How do HOS waivers play into drivers' decisions?
| | | | |
| --- | --- | --- | --- |
| | "I generally try to avoid these areas." | "I haul in these areas when the price is right." | No hesitation/other |
| Areas experiencing extreme heat | 21% | 64% | 15% |
| Areas experiencing wildfire activity | 50% | 35% | 15% |
| Areas under flood watch or warning | 45% | 41% | 15% |
| Areas under hurricane watch or warning | 35% | 48% | 18% |
| Areas under winter storm watch or warning | 43% | 44% | 13% |
| Source: Convoy Carrier Survey, July 2021. | | | |
One of the first moves authorities make when declaring an emergency is often to waive HOS restrictions on carriers. The increased flexibility, and earning potential, that accompanies these waivers effectively incentivizes drivers, said Terrazas.
A closer look at Convoy's numbers shows that when price motivation factors in, carriers will head to disaster areas in the wide majority of cases. An earlier survey from Convoy simply asked drivers about their attitudes toward hauling into natural disasters, and 56% responded "when the price is right" while 42% responded "I generally try to avoid them."
"Some see it as an opportunity. Rates tend to be elevated with a surge leading up to the event and a surge in the aftermath of the event," said Terrazas.
Coincidentally, my colleague Overdrive Editor Todd Dills published on Thursday a profile of John McGee Trucking, a finalist in last year's Small Fleet Championship. McGee's found opportunity in disaster. In the wake of Hurricane Ida, McGee said his small tanker fleet served the Slidell, Lousiana, community's "sewage lift stations," which he explained as "going to the lift stations that don't have power and then transferring the black water from the non-powered facility to one that has power."
According to McGee, 2020 was his best year on record, and 2021 is shaping up to be event better.
Just how much drivers take advantage of emergency-related HOS waivers, like the COVID waivers recently extended by the FMCSA to November 30, has actually become the subject of some curiosity. The extension came with a new requirement for carriers using it. Now, carriers must report their use of the exemption within 5 days after the end of each month. The reporting must include the carrier's "reliance on the Declaration," FMCSA said.