Big tech companies have been promising an autonomous trucking revolution for years now, but even with billions poured into the technology and thousands of new patents filed over the last five years, manned trucks still will continue to rule the road for the forseeable future.
What stands to change that? A recent report from Patent Forecast, a company that tracks competition and innovation in the intellectual property space, suggests that while competition is heating up among tech firms, and some clear winners and losers may take shape, we're far from full visibility or even an ETA on the delivery of reliable unmanned systems.
Ultimately, even with the blistering pace of tech innovation and adoption, the challenges of real-world driving still require a dedicated driver. In the sections below, see how tech companies are racing to introduce true autonomous trucking and what challenges to that intro remain.
Big Tech races to partner and patent its way to self-driving
"Patent activity in autonomous vehicles is insanely hot right now and has been over the past three years," read the recent report from Patent Forecast. Issued patents and published applications have exploded in the last four years as the race to true self driving heats up, but the frontrunners in the pack have already begun to consolidate and widen their lead via partnerships.
According to the report, "Whether it be between OEMs and autonomous driving platforms, companies are beginning to realize that an autonomous vehicle is too large for any one company to tackle alone. Instead, more companies have created strategic portfolios to complement their niche."
While partnerships facilitate the fusion of tech and hardware, as well as theory and practice, the real winners of the self-driving truck race will be patent owners, rather than individual fleet or truck owners, according to JiNan Glasgow George, the CEO of Patent Forecast.
"If I give any theme for this report, it's partnerships," she said, noting that automating long-haul trucking simply involves too many moving parts for a single company to address. "We've already seen some successful partnerships, and it's still early."
Patent Forecast's report looked at both the pace and scope of patents in the space as well as the broader market performance of each of the leading companies in self driving trucks to attempt to predict which company would win out in the end. Here are a few of the biggest players in the patent race.
Which company will produce self-driving trucks first?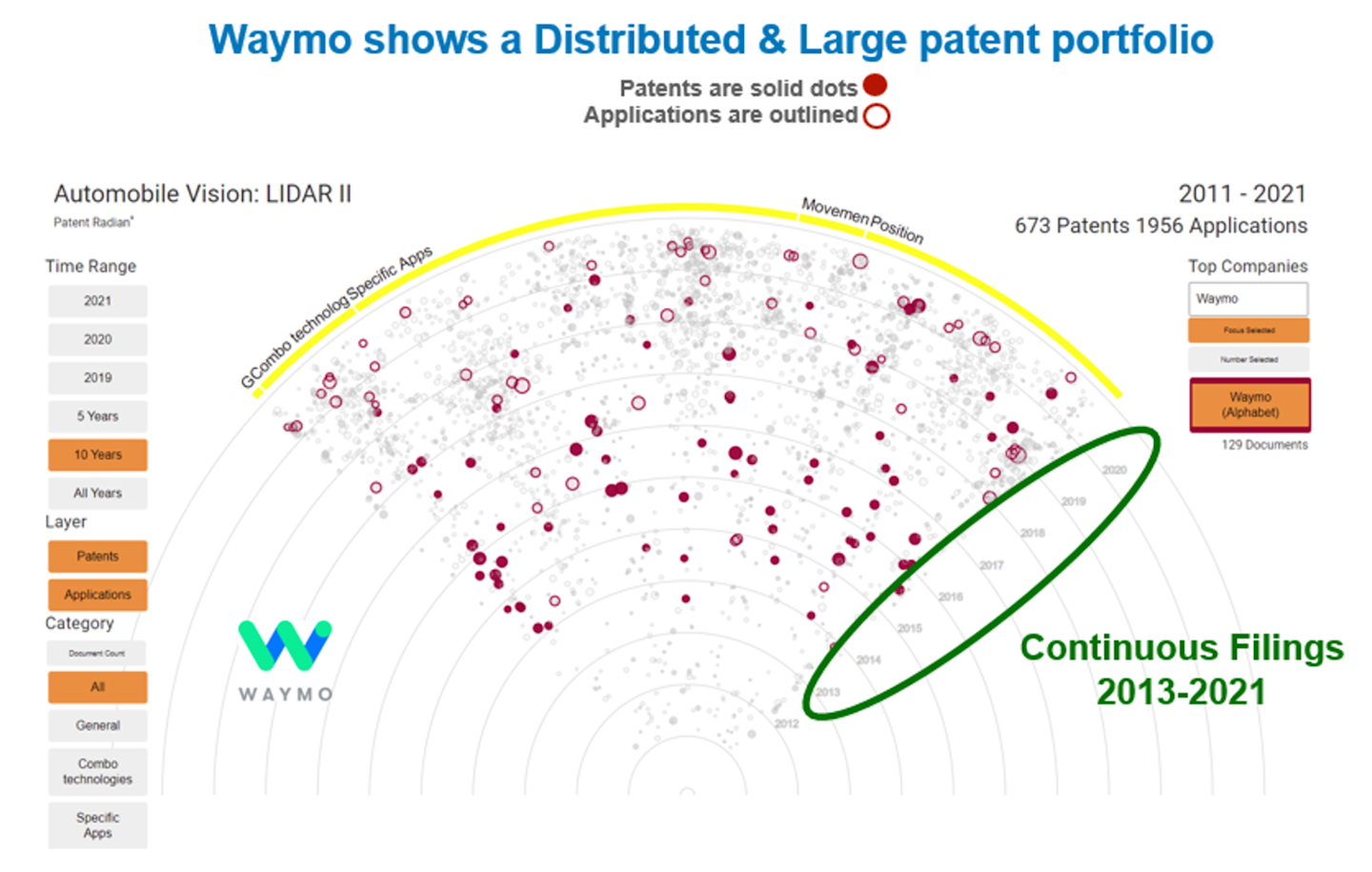 According to Glasgow George, Waymo will likely win the race to self-driving trucks just as its parent company, Alphabet, which owns Google, has dominated online search.
'Alphabet always goes for data," said Glasgow George. "There's a lot to monetize in data. Supply chain analytics that come from supply chain tracking will be valuable to insurance companies and in food supply freshness tracking. Waymo is not going to start building trucks because they want their system to become as universal as Google search. So the positioning of all their technology has been generic, and the competition looks a little too late.
Glasgow George referred to TuSimple, Waymo's chief competition, as a close runner-up. TuSimple has actually put the rubber to the road with a shipment of watermelons from Arizona to Oklahoma City. It represented an attempt to demonstrate the ability of an autonomously operated vehicle to cut ten hours off a trip that typically averages 24 hours, given hours of service limitations with a single driver. The firm has partnered with Navistar and says it's taken orders for more than 7,000 trucks.
But these partnerships tie TuSimple to platforms, whereas Waymo attempted to develop a system that would work on any platform. Combine that with TuSimple's "late start" in the patent game, and Glasgow George ranks them second.
Finally, Aurora purchased Uber's Advanced Technology Group and may soon go public via a "special purpose acquisition company," or SPAC, according to CCJ. But the tech firm still faces significant challenges, according to Glasgow George.
"Aurora has founders from Google, Tesla and Uber, so there's no shortage of tech genius on board," said Glasgow George. "The company has recently formed a partnership with Volvo to retrofit trucks with self driving technology, but we're noticing they're buying more than building or partnering. Most of their recent acquisitions have centered on LIDAR technology, but they may be a little late."
[Related: 'Venture capital is a little fickle': Starsky Robotics closes shop as a trucking company]
How close are self-driving trucks?
These days, most larger companies pursuing self-driving technology could put a truck on a highway on a clear, sunny day and not run into too many problems. But, as any trucker knows, weather, traffic, and accidents can spoil best-laid plans in a moment's notice. That's where self-driving trucks are playing catch-up.
Onboard technology to facilitate self-driving trucks has advanced about as far as it can without smart infrastructure that talks to the onboard tech, according to Glasgow George. Because trucking and the infrastructure that supports it spans the country, federal agencies will have to coordinate and decide on a unified approach to smart infrastructure if the technology is to be fully realized.
"The issues are the coordination across federal and state governments and the DOT," she said. "There are a lot of agreements that have to come together to make that work."
Additionally, unlike tech applications in a fixed location, self-driving trucks can't rely on connectivity and cloud computing, according to Glasgow George. Instead, they'll need onboard processors to get real-time information from smart infrastructure that will help them adapt to weather or traffic conditions.
"On the highways, trucks can't be worried about connectivity to the cloud. Vehicles themselves need to communicate with distributed infrastructure. They're solving that with edge computing," she said. "You can't solve it with cloud or micro cloud computing. You have to have true edge, near where you need the analytics. Every intersection is going to need some sort of infrastructure to manage the vehicle data, like sensors that relate to weather and lights and traffic."
In that way, self-driving trucks are simultaneously right around the corner and a world away. Fleets including Penske Truck Leasing, UPS, Schneider, U.S. Xpress and J.B. Hunt have all invested in self-driving trucks, but even the best-funded firms can't make federal, state, and local governments agree on infrastructure overnight.
Big tech's race for patents in the self-driving space proves that the country's sharpest minds in tech and infrastructure realize the money to be made in autonomous trucking will be in owning intellectual property or becoming a platform for a wide range of users.
As for owner-operators and small fleets looking to keep their heads above a rising tide when the autonomous driving revolution finally does come around, look out. Bigger, more invested fleets are sure to have the first-mover advantage, if they don't break the bank in the process.